Hostel Centar
Zagreb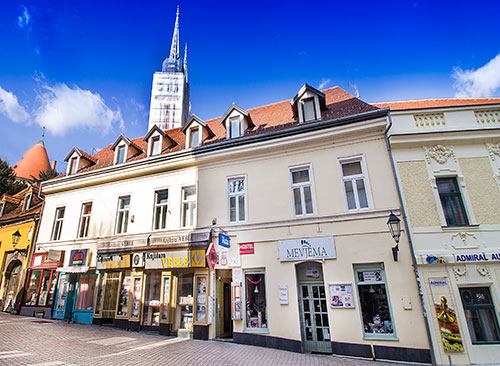 Hostel CENTAR is situated in the old town, in the very centre of Zagreb.
The facility was completely renovated in the summer of 2017.
We are only 100 m away from the main city square, 1 km from the railway station and 3 km from the main bus station.
Not far from the Hostel CENTAR, there are the legendary Dolac open-air market, the Cathedral, the Upper Town, museums, theatres, pedestrian zones…
The BILLA supermarket is 30 m away from the hostel and is open from 7 am to 11 pm. The numerous neighbouring cafes and terraces as well as luxury bars and restaurants for more demanding guests are open most of the day and evening.
The capacity of 19 rooms classify us within smaller hostels and ensure the muchrequired peace and quiet for our guests and their vacation.
We have twin rooms (twin bed), 4 double rooms (160 x 200 beds) – double bed, triple and single rooms for people travelling alone.
We offer also a mixed dorm room for a maximum of 4 persons.
Some rooms have air-conditioning and TV.
The services can be paid in cash, by cards or by a previous payment to our transaction account.
Hostel CENTAR has free Wi-Fi, free coffee and tea in unlimited amounts and free maps of Zagreb as well as many brochures.
The joint XXL fridge can store all your fresh food.
Towels and linen are free for all guests.
Breakfast, laundry and travel services to the Plitvice Lakes are offered against additional payment.
Our courteous personnel can be reached at +385 98 95 75 492 or at the e-mail hostel.centar@yahoo.com
Book your room immediately by phone or credit card at the link: DIRECT BOOKING.
Company information
Click for more information
Company name:
NAJBOLJI SNOVI j.d.o.o. za usluge
Abbreviated company name:
NAJBOLJI SNOVI j.d.o.o.
OIB: 50352626020
Registered company address: Marijane Radev 4, 10000 Zagreb, Hrvatska
The court where the company is registered in the Court register:
Trgovački sud u Zagrebu
The number under which it was entered in the Court register:
MBS: 081015291
Name and headquarters of financial institution in which the company has open accounts, together with accounts numbers::
Zagrebačka banka d.d., Zagreb, Trg bana Josipa Jelačića 10.
HR4623600001102524143
Board member:
Slavko Liović
Person authorised to represent:
Ines Jalušić
Share capital:
10,00 kn, paid in full